Management
Dipl. Ing. Bastian Seidel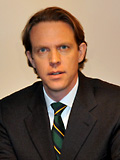 Bastian Seidel was born in Lebanon in 1968 and lived there through his entire youth and secondary education.
In 1988, after moving to Germany he studied mechanical engineering at the Technical University Munich and graduated with a Masters in Space and Aerodynamics.
Following his studies, Bastian started work as a technical business consultant – first for DGM (a company formerly affiliated to Deutsche Bank AG specializing in consulting small and medium sized companies) and later for Booz Allen & Hamilton Inc. (now Booz&Co) the global strategic consulting firm.
Further substantial experience in strategic and operational business development, operations management and After Sales were acquired at MPM group (a former KKR investment) and Volkswagen AG.
In late 2006, Bastian Seidel founded EME agency, a company dedicated to the trade of goods and transfer of technologies between Europe and the Middle East.